When it comes to planning a trip, no matter where you go, it is easy to quickly become overwhelmed. Especially traveling to a country like Italy, where the beautiful places to see are endless, the culture to experience is so rich, and the Google search results are inundating. If you work full-time, chances are you only have 10 days to two weeks to cram it all in; you may be on a budget, and those two reasons alone are usually enough to turn something fun into a time-consuming nightmare. If you have been dreaming about the perfect trip to Italy, here are 5 tips that will make your planning for "Plan the Best Trip to Italy Stress-Free" easy and worry-free:
TIP #1 – Choose off-peak season months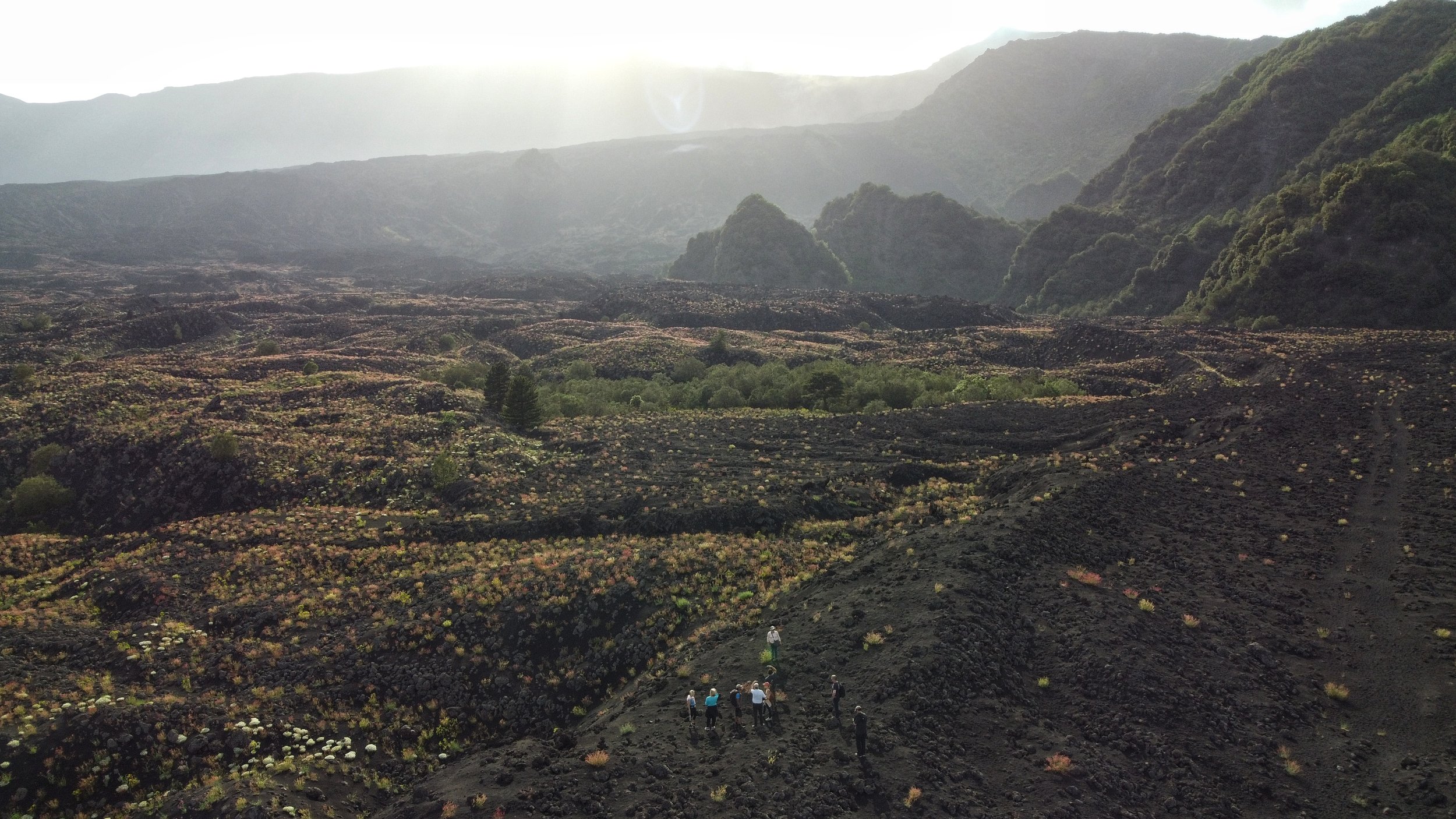 Off the beaten path on Mt. Etna, Europe's most active volcano. If you are looking for a more authentic, less crowded experience, you will want to avoid the peak summer months of July and August. The weather is too hot, and prices are higher. The beginning of June is beautiful as the temperatures are warming up, but it is still considered a high season with higher costs and bigger crowds. If you are not looking to do water activities, enjoy the cooler weather, and don't mind occasional rain showers, April and May are good months to go. Prices are lower, although you should keep in mind that in some beach destinations, especially in southern Italy, many hotels and restaurants will be closed until the beginning of May.
Our favorite time of year for almost any type of trip, especially adventure, is the fall. From boat charters to snorkeling, hiking, and biking, September and October are the best months to visit most places in Italy. The water in September is still warm from the hot summer months but lower temperatures (in the mid to high 70s during the day and 60s in the morning and evenings) will make everything much more enjoyable and less sweaty. And if you are into wine, you may just catch the sacred wine harvest. If fact, we plan a yearly trip to a stunning wine resort on Mt. Etna to participate in wine-making activities. If you are looking for a fall trip full of adventure, relaxation, and of course outstanding wine, join us for our next.
We will hike Europe's most active volcano, snorkel in pristine waters, enjoy fresh seasonal food, and partake in one of Italy's most ancient traditions: the grape harvest. Space is limited to 8 people and this trip is sure to sell out fast!
TIP #2 – Choose to see less and experience more

When traveling to Italy from the U.S., we want to maximize our time and experiences. However, more is not always better. Trying to see everything and running from place to place just to take the Instagram-worthy shot, will leave you drained and unhappy. Sure, you will have some cool pictures to share but, in the end, you won't have experienced the culture, the food or the lifestyle… probably some of the reasons why you chose to come to Italy in the first place. Unfortunately, we know so many people that even after our advice, decided to go to five locations in a week. Others hopped on a three-hour train ride (each way) for a daily trip to Pisa to simply take the photo.
The consensus after it was all said and done? "It was overwhelming—constant fatigue, scorching heat, and a blur of places and faces. We barely remember half of what we saw and the people we met. When we return, we'll take a different approach, savoring fewer locations at a leisurely, more meaningful pace." Differently from the Canary Islands, where there is somewhat of a sense of urgency to visit, Italy isn't going anywhere anytime soon. You may need to split all the places you want to see between two or three trips. After ten years in the U.S., as an Italian, I visit Italy twice a year, yet there's still so much left to explore. I'm sure you've heard of the term La Dolce Vita, the Sweet Life, or Il Dolce Far Niente, the sweetness of doing nothing. Italy is a country to be savored… slowly!
I remember as a teenager, spending countless hours at the local bar (coffee shop) with friends and literally doing nothing, other than observing the passerby and enjoying each other's company. And of course, growing up, our meals, especially on weekends were at least three hours long. If you've been on a food-focused trip, you've likely experienced long evenings at the dinner table, creating some of the best memories and meaningful relationships. Our recommendation is that you choose quality over quantity and truly experience the lifestyle and the culture that our amazing country is so envied.
TIP #3 – Talk to a local (expert or not)
Conversing with a local or someone who has lived in Italy for a significant time is incredibly valuable. Sometimes, I spend hours doing online research, only to become drained and even more confused by the information overload. Now, I've learned that picking up the phone and talking to a natural person is far better than the web. While online information isn't useless, understanding locations, distances, weather, and tourist trends can be overwhelming. Talking to someone is more efficient and valuable, even if they don't know everything on your bucket list. They can guide you in the right direction with their resources.
People connections are the best connections. Not an expert then or now in every region, but I knew our family's cherished local spots, must-try dishes, and hidden gems through my friends. Growing up in Rome, you'd be surprised to find many restaurants with more Italians than foreigners in the city center. You just have to know where to go. More articles to come on that later. For unfamiliar places, I rely on a network of friends, local guides, drivers, and business owners to provide valuable information. You may be thinking, "Karen, you've made your point. But what if I don't know any Italians?" Fair enough, I'll give that to you. Then, you can talk to me!
Life Beyond the Room was born out of talking. I taught Italian to students eager to visit Italy. Our lessons revolved around talking in Italian about the country, customs, traditions, food, and more! Eventually, one student was so enthusiastic that asked me to create an itinerary for him, focused of course on the local and authentic. Our business was born from love and passion for our country. In the consultation, ask any questions and discover how we can create your stress-free trip of a lifetime. Would you talk to me even if I don't want to use your services?
We hope to change your mind, but we respect your decision to plan your own trip due to budget limitations. The answer is sì! We love sharing knowledge and trust you'll spread the word, regardless of the timing. Does that sound like a good deal?
TIP #4 – Plan a year ahead
With the post-pandemic travel rush, everyone is eager to travel. Often in times the best boutique, family-run accommodations are the first to book up. Despite limited online reservations, we personally know most boutique accommodation owners/managers and can secure bookings before availability. Some assume we add a markup, leading them to believe booking through us costs more. However, that is incorrect and in fact, quite the opposite happens. Being IATA-accredited, we receive hotel commissions globally and happily share them with you.
Enjoy lower rates while we earn a small cut for our services. Plus, you know exactly what you're getting because we've been there! This principle doesn't apply just to accommodations; reserving the best guides, boats, drivers, etc. is often about timing. They are the best at their job and won't be available last minute! I can't tell you how many times I was able to puzzle in different clients, all traveling within the same week, with the same guide simply because we planned ahead.
If you want to go to authentic restaurants instead of ending up in the tourist traps right outside the Vatican or the Colosseum because you are hungry, put a reservation in a few days early and plan your itinerary accordingly. Don't get me wrong, we have worked with travelers who have contacted us less than two months before their trip and while we still do our best to make it happen, we have to be very honest about the limited availability and higher pricing of last-minute bookings.
TIP #5 – It's all about fun!
Ever felt like you're good at something but you really don't enjoy it? I have… many times. And eventually, I stopped trying to make myself like it! If you're good at planning but easily get stressed out, then avoid doing it! Hire an agency, your husband or let your friends help you. The point is that if it ain't fun, it ain't worth it! See how well I learned English?! Life and especially traveling is all about fun! A trip without laughter wastes time, energy, and money. But a trip of laughter, love, and enthusiasm enriches life forever.
From our Tuscan Culinary Retreat a few years ago
---
I hope this article has shed some light on some best practices to follow when planning your trip to Italy. This year, whether for Christmas, birthdays, or anniversaries, CHOOSE THE GIFT OF TRAVEL It's the only thing you buy that makes you richer.
Gift cards for travel credit are now available for purchase through our website. They never expire and are transferable to any person.
As theologian and philosopher Agostino d'Ippona put it, "Il mondo è un libro, e quelli che non viaggiano ne leggono solo una pagina." The world is a book and those who don't travel only read one page of it.
---
Watch the video on how to plan your trip to Italy