While most people choose to visit Costa Rica in the dry season of December through March, there are many reasons why people seeking a more authentic travel experience choose to visit during the green season. From April to November, the lush jungle transforms into a beautiful watercolor painting with all shades of green, the temperatures are much more comfortable, and the chance for unique encounters increases significantly.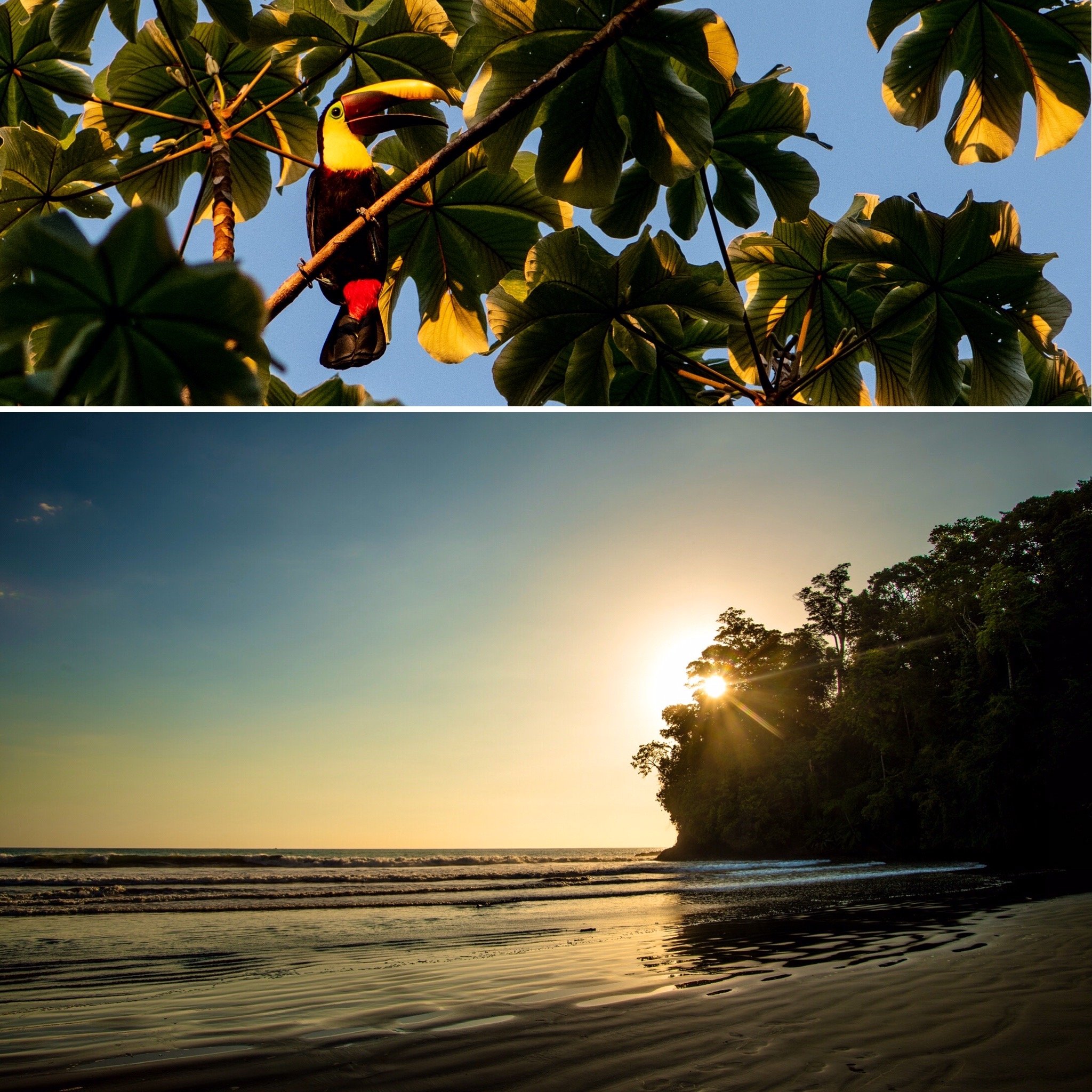 Here are 5 reasons to visit Costa Rica during the green season
1) Less crowded
Nothing is farther away from the Pura Vida way of life than fighting for a parking space or a spot on the beach! Tourism is the biggest industry in Costa Rica, and if you are looking to stay away from the crowds and have a more immersive experience surrounded by locals, remove the dry season months from your travel planner. With fewer tourists, you will have an opportunity to experience the charming beach towns and the Costa Rican culture without feeling like you're waiting in line to enter a Disney theme park.
2) Cooler temperatures
While it stays warm and tropical in Costa Rica year-round, the heat can get overwhelming in the dry season. Late spring is a wonderful time to visit as it is before the heavy rains set in, but there is enough cloud cover to keep the temperatures much cooler, thus making the trip much more enjoyable. It varies from region to region, but around the South Pacific Coast, such as in the beach town of Uvita, in the late spring, you can typically count on beautiful sunny mornings, and cloudy afternoons, with a chance of short rain showers. Locals are very familiar with this weather pattern, and plan activities for the morning, and relaxing experiences, such as a massage or yoga session in the afternoon. There is nothing more serene than enjoying the soothing energy and sound of the rain from paraphs a beautiful jungle resort while sipping on a refreshing tropical drink.
If this sounds like heaven and you are looking for a Costa Rican escape with the perfect mix of adventure and relaxation, join us on our next
We will be staying in a luxury, sustainable resort in the heart of the jungle. You will have your own private ocean-view villa and almost every meal is included!
Hiking cascading waterfalls, ziplining through the tree canopy, relaxing with a massage of your choice, and daily yoga are just some of the wonderful experiences we will indulge in.
Spaces are limited and this trip is sure to sell out fast!  Learn more
While you can have a similar experience in the dry season, depending on the region, nature can become much more brittle during that time. Some waterfalls dry up and the landscape can brown. In the green season, however, waterfalls are overflowing, life is abundant, and locals, although always happy, are less busy, and can therefore interact with you at a deeper level. Often, new friendships with locals open a world of opportunities and experiences you never even dreamed of. And that, my friends, is the secret to meaningful and authentic travel.
4) Less timid wildlife
With fewer people around and more comfortable temperatures, wildlife is also more active. There are certain places you can go to experience the wildlife up close such as national parks, animal sanctuaries, and jungle walking excursions. However, during the green season, you will find that the animals are more likely to be spotted just as you venture around without having to seek them out. They respond to the abundance of fruit and waterfalls flowing the same as we do, and with fewer tourists, they become less timid. Your chances of having a unique encounter with tropical birds, monkeys, butterflies, slots, and even dolphins and whales increase greatly!
5) Less expensiveAlong with smaller crowds comes less competition! If you desire to experience luxury travel but it has always felt out of reach, visiting Costa Rica during the green season gets you the best value for your money. Fewer competition for exclusive accommodations and activities means much better rates, and lower stress when it comes to planning. Airfare is typically cheaper this time of year as well, depending on when you book and where you are traveling from. As locals live here year around, you will still have all the same amenities, markets, and shops available that you would have during the dry season but for a cheaper price tag, fewer crowds, and ultimately a much more authentic
Pura Vida Experience
If Costa Rica isn't on your bucket list, don't forget to check out our other Curated Small Group Trips to Italy and France!